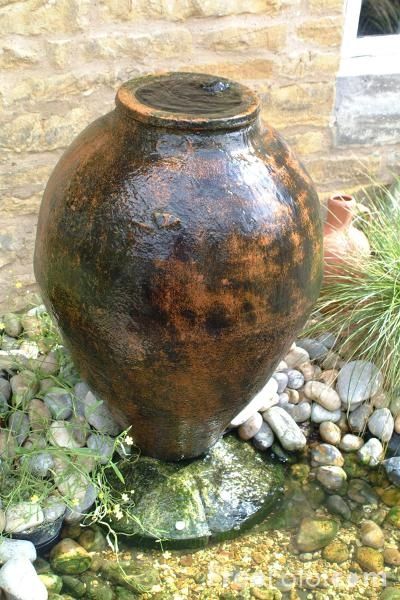 The sound of flowing water, be it rippling or cascading are so relaxing that they add up to the peacefulness and tranquility of outdoors. Nothing can be more eye and ear pleasing than the enchanting sight and sound of a water fountain. Who'd believe that with some basic material, a few pots and a little creativity, you could build a water fountain to add elegance to your garden, and make it more warm and welcoming?
The words "water feature" refer to any number of water-centric possibilities for your yard ranging from fountains large and small to birdbaths or in-ground ponds. These water features can take a wide spectrum of forms spanning free-standing masonry fountains to pots to hanging wall fountains — and these are just a few of the options that provide a focal point and can bring you peace and tranquility.
One major consideration: Don't forget when planning that water features can be a difficult-to-move addition to your landscape plan. Even as they have a dramatic impact on the overall look of your yard, as well as that of your property as a whole, take care as it may be difficult to change once installed. There are other key considerations when you're planning. First and foremost is safety, followed closely by pets in the household, budget, location, whether or not you would like aquatic animals such as fish and scale.
Water gardens make a great addition to an outdoor living space. They are aesthetically pleasing and have a soothing effect on nerves. Let Lan-Con help you design a water garden to fit your individual style, as well as provide you with tips on how to keep your water garden maintained and working great for years to come.